Paediatric Physiotherapy
ThreeSpires Physiotherapy provides paediatric physiotherapy for toddlers, children and young adults with a variety of conditions across Staffordshire. We are able to deliver highly specialised paediatric physiotherapy for children (ages 0 - 18) with a wide range of movement disorders and physical disabilities at home, in school or at nursery. We are based in Lichfield and serve surrounding areas such as Sutton Coldfield, Tamworth, Rugeley, Cannock and Walsall.
Our specialist chartered paediatric physiotherapists have a large amount of experience with treating children of a variety of ages (including babies and toddlers) with conditions such as delayed development, cerebral palsy and muscular dystrophy. We understand that children are not simply "little adults" and require a completely different approach to therapy and as such always aims to make sessions fun, interesting and engaging for children. Below are covered most of the questions that parents commonly have regarding paediatric physiotherapy but if you have any concerns that are not answered then please get in touch to have a chat.
How Can ThreeSpires Physiotherapy Help?
Our paediatric physiotherapy service can help in a number of ways:
Firstly our service is mobile and our specialist paediatric physiotherapist will visit you in your home at a time and a day of your choosing, thus reducing any disruption to your child's education and eliminating any need to take time off work. We always recommend that the initial assessment and treatment session is completed at home to allow the physiotherapist to see the child in his/her home environment and also to enable parents to feel most relaxed.
Sessions are designed specifically to be fun, interesting and creative so as to maximise the benefits of therapy and keep your child fully engaged during the session. This is a vital component of the session and is one of the reasons that it is important to have a specialist paediatric physiotherapist.
Follow up therapy sessions can be conducted at school if needed. Most schools are very supportive of the need for physiotherapy and our paediatric physiotherapist has extensive experience of working in schools with children and liaising with staff, teachers, carers and other professionals. Having therapy at school can reduce disruption to precious family time and also enables the physiotherapist to assess any difficulties that your chid may be facing at school.
We can supplement any NHS physiotherapy provision and can liaise with the NHS physiotherapist directly to come up with a joint treatment plan.
Our paediatric specialist can create an exercise program that is tailored specifically to your child's developmental needs. This can then be used in between physiotherapy sessions in order to maximise potential improvements.
We can help instruct parents, carers, teachers and other professionals on how to help with therapy and how to safely conduct exercises and rehab work.
We can provide assessment and treatment reports for use by other medical professionals, teachers, staff and carers.
How is Paediatric Physiotherapy Different?
Paediatric physiotherapy is a highly specialised form of physiotherapy where the physiotherapist works with the child, parents, carers, teachers and any other professionals in order to maximise the child's physical potential. It is often very hands on in nature with the physiotherapist assisting the child in attaining specific positions, facilitating movements and helping the child achieve their potential.
Due to the complexity of childhood pathologies and the challenges of assessing and treating children, paediatric physiotherapists are specialists who have undergone extensive training and professional development and have a large amount of experience of working with children of all ages. Paediatric physiotherapy often takes place at school or home rather than in a clinical environment as this makes children feel much more at ease, reduces disruption to their lives and means that therapy can mostly seem like play and fun!
What Ages of Children do you Treat?
Our paediatric physiotherapists have experience of treating children of all ages from very young babies and toddlers who may have delayed development and not have met motor milestones such as sitting unaided to young adults of 18years with neurological conditions. Sometimes some adolescents may not require a specialist paediatric physiotherapist for example if they are 16 and have strained a muscle playing hockey in which case it will be most appropriate if they see one of our home visit musculoskeletal physiotherapists. We can advise you about which will be the most appropriate when we discuss the situation via phone or email
What Can I Expect in a Physiotherapy Session?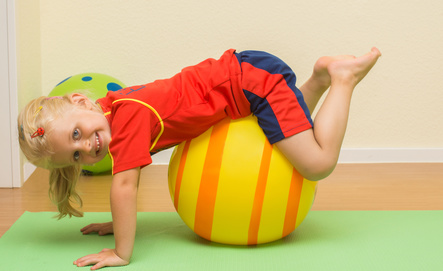 Our paediatric physiotherapist will visit you in your home at a time and day of your choosing. We always recommend that the initial session is completed at home to make for more of a relaxing atmosphere.
Follow up sessions can take place at school, nursery or at home and your physiotherapist will advise you on which will be best. Often a combination of school and home sessions works well.
For the initial assessment you will need to allow 1 - 3hrs, this is due to the highly complex nature of many paediatric conditions.
Below is the format that most initial assessment sessions will take:
Subjective History (A Discussion) Your physiotherapist will talk over what the main problems are (depending on the age of the child, most of this part may be focused on the parents), take any past medical history, discuss goals and how best to proceed.
Objective Assessment (Physical examination) - here your physiotherapist will assess your child's physical capabilities and problems. Often this is done through a form of structured play where the physiotherapist will use engaging and fun physical activities to see what the difficulties are and how they can be improved. Our physiotherapist comes equipped with all equipment and a bag full of toys in order to engage and stimulate children. At the end of this part your physiotherapist will discuss and explain their findings with you.
Discussion - at the end of the initial assessment your physiotherapist will explain their findings and discuss how best to proceed. At this point an follow up sessions will be booked. It is important to note that due to the complex nature of paediatric assessments, the initial session will be an assessment only and any treatment, exercises or management plans will be completed at a follow up appointment.
Follow up appointments will usually contain the following:
Treatment: Elements in this part very much depend upon the age of the child and their problems. Paediatric physiotherapy is very much hands on and this section will often involve practicing new exercises with your child, improving the quality of their movement with facilitation and also guiding and explaining to parents, teachers or carers how to complete new exercises.
Self-Management: your physiotherapist will discuss ways in which you and your child can manage things independently. In some cases advice and reassurance is all that is needed and parent and child can manage well independently. In other cases a series of follow up sessions will be necessary in order to maximise your child's potential and your physiotherapist will advise you of this. Any exercise plan or program will be given out at this point and your physiotherapist will make sure that you and your child understand the purpose of the exercises and how to complete them.
So if you have a child that you think may need physiotherapy then please get in touch. We are a home visit service based in Lichfield and serving anywhere within 20 minutes including areas such as Sutton Coldfield, Rugeley, Burntwood, Cannock and Walsall. We can be contacted via phone 0788 428 1623 or via email enquiries@threespiresphysiotherapy.co.uk
REQUEST A CALLBACK
Just fill in the form below and give us a quick idea of your problem/request so that we can be better prepared to help you.